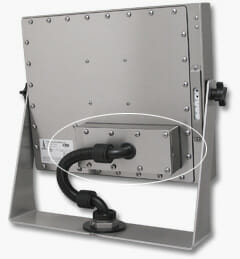 Hope Industrial Systems' new USB KVM Extender uses a single CATx cable to extend VGA video and USB signals for touch screens, keyboards, mice, and any other USB 1.1 compliant device up to 300 m (1000′).
Like our existing line of Serial/PS2 KVM units, this extender system is available in three mounting configurations: Rear-Mount for use with our Universal Mount Monitors, Pedestal-Mount for integration inside one of our pedestals, or Stand-Alone for mounting behind a panel.
Features
Up to 300 m (1000′) extension of VGA video and USB over single CATx cable
A local VGA feed through a port on the transmitter so a local monitor can be used
VGA video resolutions up to 1920 x 1200
4 USB ports at the remote receiver (touch screen, keyboard, mouse, et. al.)
NEMA 4/12 (carbon steel) or NEMA 4X (stainless steel) when housed in Universal Mount Monitors or Pedestals
All necessary cables and power supplies are provided, including a 25′ CAT5 cable for testing
Video compensation and skew adjustment at the remote receiver allows for maximization of picture quality
For more details, please visit the new Industrial KVM Extender's web page.