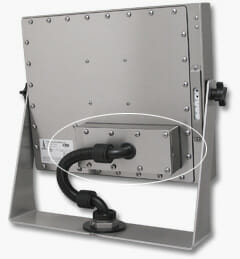 Hope Industrial Systems' new shorter distance KVM Extender delivers clear, high-resolution VGA video and USB signals up to 75 m (246 ft.) away from the computer or server. Any USB 1.1 device, including touch screens, mice, and keyboards, can be used.
Two separate transmitters connect directly to the computer and send video and USB signals via CATx cables to a remote receiver unit that mounts to the back of one of our Universal Mount Monitors.
Features
Great option for customers who don't need the extension distance of our 300 m (1,000 ft.) KVM Extender series
Allows management of multiple remote operator stations in the factory from one central location
Gives the option of a computer with plenty of horsepower without paying high premiums for industrial PCs
Provides up to 75 m (246 ft.) extension of VGA video and USB over CATx cable
VGA video resolutions of up to 1920 x 1080 (covers all Hope Industrial monitor resolutions)
Uses a USB type B connector for touch screen and a standard USB type A connector for keyboard or other USB device at the remote end
Two enclosure options: NEMA 4/12 (carbon steel) or NEMA 4X (stainless steel)
All hardware and cables, including CAT5 patch cables for bench testing, are provided
Extension distance of 150 m (500 ft.) when extending VGA signals only
For more details, please visit the new Industrial KVM Extender's web page.