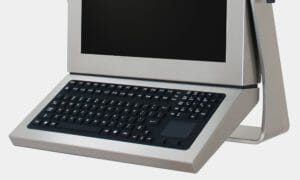 Hope Industrial Systems is excited to introduce our new Industrial Full-Travel Keyboards with Capacitive Touchpad. These new keyboards are available in our four keyboard enclosure options:
The easy-to-use capacitive touchpad is suitable for use with thin gloves, and can be designed for use in wet environments (like any capacitive touch pad, standing water can reduce pointing accuracy, which is instantly restored once the water is wiped away).
All models are sealed to IP65/IP66 standards, include our 4-year warranty, and are 3rd-party certified for the toughest industrial environments.
Features and Specifications:
Full-travel keypad with rugged silicone overlay
Integrated capacitive touchpad
113-key functionality with 20 function keys
Separate numeric keypad
USB connection
Operating temperature of -20° to 60°C
Sealed to IP65/IP66 standards
4-year warranty
Stainless steel or black powder-coated carbon steel enclosure options (stainless only for Panel Mount models)