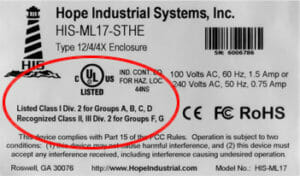 Hope Industrial Systems is now shipping Hazloc-rated models of our 17″ and 19″ industrial monitors and touch screens. Our Panel Mount and Universal Mount displays (including our keyboards and KVM extenders) have been certified by UL for Class I, II, and III, Division 2 locations. These displays are also certified by UL for Type 12/4/4X environments, carry a UL508 safety rating, and are backed up by our industry-leading standard 4-year warranty.
So what Hazloc ratings are available?
Gases – Class I, Division 2 for All Groups (A, B, C, D)
Dusts – Class II, Division 2 for Groups F, G
Fibers and Flyings – Class III, Division 2
What Hope Industrial Systems products are Hazloc rated?
17″ and 19″ Monitors

Panel Mount models – Class I, II, III, Division 2, Groups A, B, C, D, F, G
Universal Mount models – Class I, II, III, Division 2, Groups A, B, C, D, F, G
Rack Mount models – Class I, Division 2, Groups A, B, C, D
Window options – touch screen, acrylic, or tempered glass
Enclosures – stainless or black carbon steel (19″ Rack Mount only available in carbon steel)

Universal Mount Monitor Options

Keyboards – short-travel and full-travel
KVM extenders
So what's the big deal?
Price – nobody has Hazloc-rated monitors even close to our prices!
All testing and certifications performed by Underwriters Laboratories (UL)
Warranty – 4 years
Shipment lead time – most models can be shipped in less than 3 days
Manufactured in our factory in Atlanta, GA, USA
30-Day Total Satisfaction Guarantee
For more details, please visit the Hazardous Location explainer page.