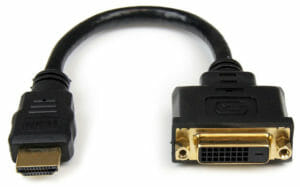 HDMI is one of the most common video connectors in the market. This standardized connector offers tremendous versatility, supporting digital video, audio, and even network traffic on a single connector. The availability of multiple connector sizes for different sized devices has quickly made HDMI a standard feature in many consumer and business devices from phones and tablets, to laptops, to thin clients.
Update Sept. 2018 – all of our display models now include standard VGA and DVI video inputs, allowing digital signal connection from both HDMI and DisplayPort sources using a simple available adapter.
The video signal passed through HDMI cables is also based on the same format as DVI signaling, which is of course a standard video port on many of our industrial displays and touch screens. This means that any DVI-supporting Hope Industrial display can also display video from any HDMI-supporting device using a simple inexpensive connector adapter.
For our smaller displays that only support analog VGA connectors, HDMI signals can be displayed using an analog-to-digital adapter cable that converts the HDMI signals into a format the VGA display can use.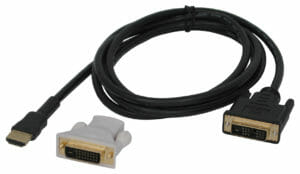 Using a DVI Digital Display with an HDMI Device
All of our displays 19″ and larger include a native DVI video input. Since HDMI uses the same signaling as DVI, a simple connector adapter is all that is required to accept an HDMI video signal. Since there are no electronics or processing in these type adapters, most any available adapter should work.
One adapter that we often recommend is this unit from StarTech.com. StarTech manufactures many adapters and cables of acceptable quality and these adapters are commonly available online.
Hope Industrial also provides DVI cable kits that include an HDMI cable with HDMI to DVI adapters at both ends which can be used to drive our DVI monitors with an HDMI device. These kits may also be used to route a DVI signal through small diameter conduit since the compact HDMI connectors can fit where the large DVI connector cannot.
Since HDMI cables do not include any sort of strain relief (they rely on friction just like a USB connector), it is preferable to make the HDMI connection at the PC end, with the connection at the back of the display relying on DVI and its included strain relief screws.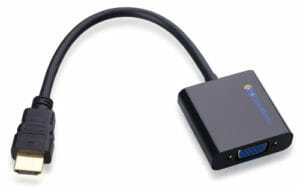 Using an Analog VGA Display with an HDMI Device
Our 12″ and 17″ displays are equipped with a standard analog VGA video connector. These displays can also accept an HDMI video signal through the use of an HDMI to VGA converter. While these converters are small and simple, they actually contain a circuit that converts the digital signal to an analog signal that the display can use.
We've tested several commonly available HDMI t0 VGA converters and while they are not all created equally, we have found the 113046 HDMI to VGA Adapter from Cable Matters to be a quality product that we can recommend to our customers.
HDMI to VGA adapters are simple devices and are easy to use, but we recommend bench testing your final configuration first since there is a greater chance that a smaller display might not be compatible with the higher resolutions often used in HDMI-equipped devices, even with a converter in place.