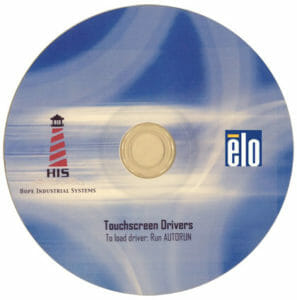 As discussed in other posts, we have always used Elo Accutouch resistive touch sensors and controllers in our touch screen models. Aside from the usual benefits of resistive touch sensors, the Elo Accutouch system offers high quality, extremely diverse driver support, and long term compatibility (DOS drivers from 20+ years ago still work with our current RS232 models).
However, before we supply drivers for customers' use we always fully and rigorously re-test new drivers in our own lab, and make these drivers and our findings available on our website. Today's post will discuss our reasons for doing this extra testing on a pre-certified driver.
Ensuring Quality
First and foremost, our objective is to ensure the highest quality and best experience for our users. Despite the best efforts of any software Quality Assurance team, bugs do happen. We want to make sure that we find any bugs before our customers do, and if the user experience is not perfect we will sometimes continue to distribute an older driver while we address any concerns with the driver developers.
Ensuring Compatibility with Hope Products
An end-to-end Hope Industrial workstation could include several components that may be affected by a touch screen driver: KVM extenders, USB-to-Serial adapters, and of course the touch screens themselves. In our lab, we set up and test many possible product configurations to ensure that a driver change will not affect the products we sell.
Reviewing and Suggesting New Features
Since the signaling protocols of the touch screens themselves are fairly static, most new driver versions contain new feature sets and options. We review all of these new features and test their usefulness in an industrial control setting. When a new feature looks valuable, we educate our support staff and often share the information on this forum (see recent posts on active touch areas, advanced touch screen features, and single-touch gestures).
We also work closely with the Elo support staff, providing feedback and suggesting new options that might be useful for our customers.