Hope Industrial offers 3 different varieties of monitor and touch screens to suit the needs of each individual customer. We offer Panel Mount, fully enclosed Universal Mount, and Rack Mount monitors, all with a standard 5-year warranty and 30-day total satisfaction guarantee. All of our monitors are designed to provide superior picture quality in a rugged enclosure, ensuring years of reliable operation in any factory environment.
All HIS Monitors and Touch Screens include:
VGA and Digital Video (DVI) inputs; compatible with HDMI and DisplayPort
AC and DC (9.6 to 36.6 VDC) power options
Analogue Resistive Touch Screen, Tempered Glass, or Acrylic Protective window options
High temperature range, up to 50°C; high shock and vibration handling
3rd-party testing and certifications, including Hazardous Locations
Standard 5-Year Warranty and 30-Day Total Satisfaction Guarantee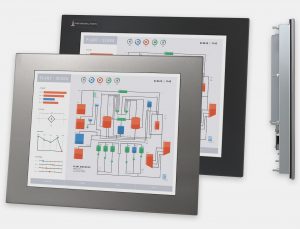 Panel Mount Industrial Monitors
Our Panel Mount Monitors feature a unique single-cutout, stud-free design for easy installation – no clips, drilling, or aligning studs! If you're replacing a non-HIS panel mount, we can help you determine what size will work with the existing cutout you have.
Features
Panel mount without drilling stud holes
Unique one piece mounting collar provides even pressure and a water tight seal
Exposed cables in the rear
Rear is protected inside a panel
Integrated 100 mm VESA mounting pattern on rear cover
IP65/IP66 rated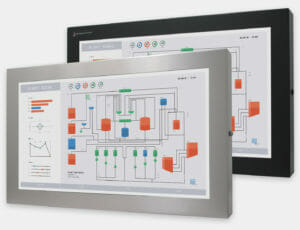 Universal Mount Industrial Monitors
Built around the same reliable electronics as our Panel Mount models, our stand-alone Universal Mount displays are extremely versatile and give you the flexibility to put the monitor anywhere you need in the factory, without the need for a special enclosure. These units can be mounted in a limitless range of configurations and combined with a keyboard, thin client or PC enclosure, or KVM extender to create a complete workstation.
Features
VESA and yoke side mount points allow for a limitless range of configurations depending on the individual needs of each user's application
Variety of mounting options – mount to the floor on a pedestal, attach to a wall, column or post, or even hang from the ceiling
Cables protected inside monitor cavity (exiting through a variety of sealed, wash-down rated cable exit glands)
Full, stand-alone workstations with keyboards, thin client/PC enclosures, KVM extenders
Optional Workstation Assembly Service – fully assembled and tested at our factory
IP65/IP66 rated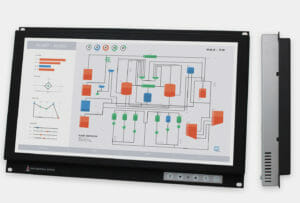 Rack Mount Monitors
Our Rack Mount Monitors are designed for standard EIA 19" racks and are IP20 rated. The low-profile designs offer the user an optimal trade-off between space, screen size, and cost.
Features
Low-profile heights requiring minimal rack space
Thin depths
Fits standard EIA 19" rack
Heights of 6U, 7U, and 8U
Don't know which monitor configuration is best for you? Contact our Sales team and we can help you determine which monitor is right for your environment.