At Hope Industrial Systems, our goal is to provide exceptional products enhanced by superior sales, support and service. Since customer relationships are so important to us, we recently sat down with our Sales Manager, Mike McGraw, and discussed some questions we know many are asking about Hope Industrial Systems. Here's what he had to say.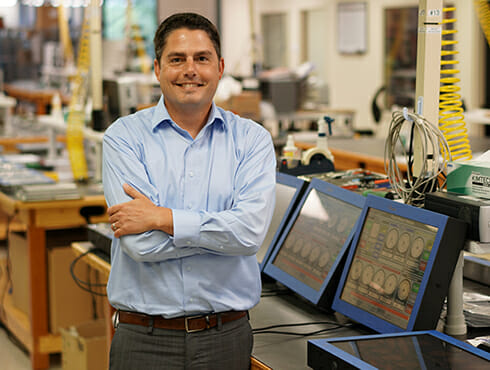 What makes Hope Industrial Systems different from competitors?
"Ironically, one of the things that makes us different is that we don't place much focus on other monitor providers.  Over the years, we've consistently trained our focus on "creating a positive customer experience every time," and when you're focused on that all the time, you don't think much about "competition" in the sense that other industrial monitor providers might."
What does a typical day look like in your position?
"We have outstanding salespeople at HIS.  I spend most of my day supporting them by making sure they have what they need to get our customers served well."
How do you train your sales representatives to know the details of HIS products?
"There is definitely a lot of detail.  Fortunately, our website is packed with so much information that much of the education can be done by familiarizing ourselves with the website.  We also have various procedures in place to make sure what needs to be known is known, and more importantly, to make sure every sales rep knows where to get information that any customer would need."
What does HIS do to prove you have total confidence in your products?
"We back them up with a 4-year warranty, which we've had since Day 1.  We've shipped nearly 100,000 monitors all over the world, all with 4-year warranties.  We also have a 30-day Total Satisfaction Guarantee which allows you to purchase a monitor, spend 30 days checking it out, and then return it for a full refund."
What do you do in order to maintain positive relationships with your customers?
"We take this very, very seriously!  When we as a management team sat down and spent time identifying the 6 "Core Values" of our company, one of those was that we will "Create a Positive Customer Experience Every Time."  We're serious about the "Every Time" part as well.  Our owners personally investigate and get to the bottom of every discrepancy between what the customer receives and what they expected.  We also consistently send hundreds of Net Promoter surveys to our customers, and every comment is reviewed by all managers.  In the rare instance that we receive a less-than-perfect comment or rating, we personally follow up with the customer immediately to address it and make it right.  We have many long-time and loyal customers who have told us they stay with HIS because of our handling of issues when they arise."
What steps do you take to be sure each customer is provided the same superior support and service every time they communicate with HIS?
"There's probably not enough space in this medium to do this justice, but one of the main steps we take as a company to assure consistency in both our products and our service is our use of written procedures.  Everything we do is proceduralized, and most procedures were begun when we first started the company 17 years ago.  This ensures that customers get the same product and service every time, and it also allows us to continually improve over time, as the procedures are constantly revised and improved."
How do you ensure a customer gets exactly what they are looking for in HIS products?
"We provide a wealth of information on the products in our website, including pricing, photos, specs, testing results, etc.  We also do everything we can in our communications with customers to make sure we know what they need and get them what they're looking for."
What do you think keeps people coming back to HIS?
"A lot of things!  We deliver a very high-quality product that stands the tests of time and use in the industrial environment.  We support that product with unparalleled service.  We have one of the longest warranties in the industry, and field-proven MTBF's of well over 250,000 hours.  We usually ship out of stock, and we complete the majority of repairs within 24-48 hours.  We've spent many years perfecting our products and our service, and that's what keeps our customers coming back to HIS again and again."
How is HIS working to make 2017 the best year yet?
"We've started out strong!  At the moment, our sales for the year has exceeded what we forecasted.  We are greatly increasing our presence on the world stage by attending the world's largest industrial automation show in Germany (Hannover-Messe), launching websites in the EU, Italy, and Spain, and planning for more international shows as well.  We're very excited to see where the Lord takes us this year."
If someone wants to contact HIS for the first time, what is the best way for them to do so?
"Give us a call!  Or if you prefer, you can email us or chat with us online."
If you have any further questions about Hope Industrial Systems, please contact us at (678) 762-9790.