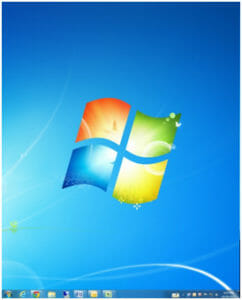 Hope Industrial Systems' Windows-based customers find UltraMon a useful application for managing multiple monitor environments. There are a few features that are particularly beneficial and effective for improved efficiency of customers' work environments.
Advanced Shortcuts: Consistent Window Placement When Launching Applications
UltraMon has the unique ability to create special "Shortcuts" that don't just open an application, but can also control where application windows are placed on the desktop, and how they are sized. UltraMon Shortcuts can start an application on a specific monitor, a precise location, and even an exact size.  Here is an example of how this might help in an industrial control environment:
Let's assume you have two Industrial Touch Screen Monitors at a loading dock that are connected to a Windows-based PC that is located in the next room.  Your users need access to the company ERP system, a batch weighing program for an attached scale, and a shipping program.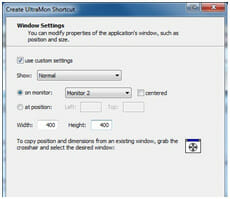 With UltraMon, you can create shortcuts to these apps that place the ERP program on one screen, maximized, place the weighing program on the second screen, tiled left, and place the shipping program also on the second screen, tiled right.
By placing these advanced shortcuts in the Windows Startup folder, this tiled window layout will automatically appear when a user logs in, creating the same window work space and saving time.
Mirroring: Showing the Same Screens or Applications on Multiple Video Ports
The Mirroring feature allows the full image on a single monitor, multiple monitors, a single application or even just a designated area on your desktop to have a mirror image displayed onto another monitor or multiple monitors through a different video output (VGA, DVI, or DisplayPort).  There are many potential benefits to the industrial display user:
The same full display image can be output on two different video ports without the need for a separate video splitter and associated power supply and wiring.  Great for showing the same industrial control screen at two ends of a production line.
A single application running on a given PC can be mirrored onto a separate, large display for viewing by several people nearby.
Since this is a software-based solution, all this can be done without any external hardware video switching device, as long as the PC has multiple video outputs.
Rotation: Seeing the Whole Picture
The ability to rotate a screen's output has several applications.  Some video card configuration utilities also have this feature, but UltraMon can pick up where the others leave off:
If horizontal space is limited on your control panel, you may mount one of our Panel Mount Monitors in portrait mode, then use UltraMon to rotate the video signal 90 deg (see illustration).
Many of our LCD panels have viewing angles that maintain higher contrast ratios when viewed from above than below.  This is very useful since displays are usually mounted below eye level.  In some cases, a user might want to mount a display far above eye level.  With UltraMon it is possible to mount the display upside down, then flip the video output 180 deg to maintain the best possible contrast ratio at these viewing angles.
Smart Taskbar: Take Control of Your Applications
A very simple but extraordinary feature that Windows falls short on is a monitor-specific taskbar that shows you apps within view on each display without being in front of the primary monitor.
When combined with a touch screen, end users are able to quickly hide applications temporarily and switch between apps on any of the monitors spread throughout the facility without utilizing the Windows taskbar on the primary display.  This is extremely useful when two displays are being used on a single PC in "extended desktop" mode, but the displays are not located next to each other.

More information on UltraMon can be found on the Realtime Soft's UltraMon's webpage, including details about UltraMon's other features and a 30-day trial download.