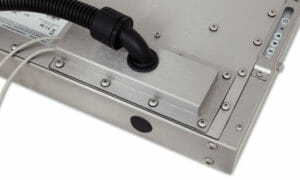 We are pleased to announce the availability of our combined Conduit/Compression Gland Cable Exit Plate. This new option provides our rugged, fully-sealed conduit option (generally used between our Universal Mount Display and an enclosure or pedestal) with the flexibility of our Compression Gland for connecting nearby peripherals like a barcode scanner or mouse.
Hope Industrial Universal Mount Displays and Touch Screens (fully enclosed) are designed for maximum installation versatility. Whether as part of a standalone full pedestal workstation or mounted to a wall, post, or column, these displays can adapt to most industrial situations, providing a full IP65/66 (NEMA 4/4X) 3rd-party-certified solution.
A standard problem with IP/NEMA-rated enclosures is passing the cables in and out of the enclosure while maintaining the wash-down certification. To keep our Universal Mount Displays flexible, we provide a standard cable exit plate pattern on all Universal Mount models, along with a variety of cable exit plates that can be used interchangeably. By far the two most popular are our Compression Glands and our Conduit Cable Exit – both of which provide a fully sealed solution.
Many users prefer a Conduit Cable Exit for routing cables from the display to either the top of a pedestal mount or to a nearby enclosure or wall. Combining a Conduit Cable Exit with our popular Compression Gland adds even more flexibility since peripheral cables (generally a mouse, barcode scanner, or printer) can enter the sealed display through the Compression Gland, with the cables then routing through the conduit to the computer.
This is particularly useful with our line of monitor-mounted KVM Extenders, which provide two free full speed USB 2.0 ports. A USB peripheral can be placed near the display with the cable routing inside the enclosure to the KVM Extender.
These new cover plates are available in 4 configurations:
CP-RG1-CON-BLK-N4: cover plate with compression gland cable exit and conduit exit, black powder-coated carbon steel, NEMA 12/4, for use with US power cables
CP-RG1-CON-SS-N4X: cover plate with compression gland cable exit and conduit exit, stainless steel, NEMA 4X, for use with US power cables
CP-RG2-CON-BLK-N4: cover plate with compression gland cable exit and conduit exit, powder coated carbon steel, NEMA 12/4, for use with UK and European power cables
CP-RG2-CON-SS-N4X: cover plate with compression gland cable exit and conduit exit, stainless steel, NEMA 4X, for use with UK and European power cables