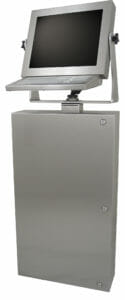 Last summer, we released our line of industrial Thin Client Enclosures, which we designed to protect any industrial or desktop-grade small form factor PC or thin client device from the rigors of an industrial environment.
These enclosures can be mounted on one of our industrial workstation pedestals, or directly to a wall. Combined with our industrial touch screens and optional keyboards and mounts, these enclosures create a full, rugged workstation using whichever thin client you like.
In the past year this product has become a huge success. We've received a lot of great feedback and most customers say don't change a thing. But there is one request we keep hearing: make me an enclosure that is bigger and can handle even more heat!
After speaking with many customers, we have found that people want a bigger enclosure for a variety of reasons:
Customer must mount several pieces of equipment near the display (say, a small PC and a compact PLC).
Many corporate IT departments require use of a single PC model, which might not be a Small Form Factor or might produce too much heat for our Thin Client enclosure.
Often, customer applications simply require bigger, hotter processors.
In response, we have been working on a new, larger PC enclosure that will share many of the popular features of our Thin Client Enclosure:
Full, NEMA 4X environmental rating using non-corrosive stainless steel (with powder-coat options for dry environments)
Fully sealed access door with drip gutters to divert water around the perimeter of the door
Integrated cable management
Full integration with our line of industrial Universal Mount Displays and Pedestal Mounts
Internal cooling options
This new product will also feature multiple configurations that can handle a variety of PC's and other equipment, as well as a special purpose-built configuration for a line of high heat PC's available from a Tier 1 PC manufacturer.
Look for a product release in the next couple months.