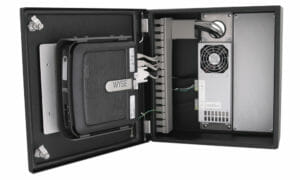 Based on feedback from our customers, we have released a new version of our Industrial Thin Client/Small PC Enclosure with an integrated power supply that outputs 24 volts in addition to the existing 5 volt output.  This new power option allows the enclosure to be used with a wide variety of industrial PC's and thin clients that were previously not supported.  The existing model supporting 5/12 VDC is still available.
Like the existing enclosure model (our ENC-TC01), the ENCL-TC02 features an internal cooling fan, cable routing trays, and is sealed to NEMA 4/4X standards. The new enclosure has 5/24 VDC output terminal blocks (versus the 5/12 VDC in ENCL-TC01 models).
For more information, please contact us or visit the enclosure's web page for a full technical description.