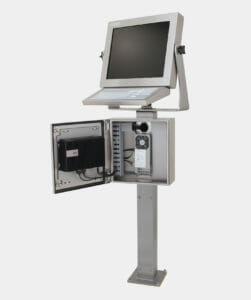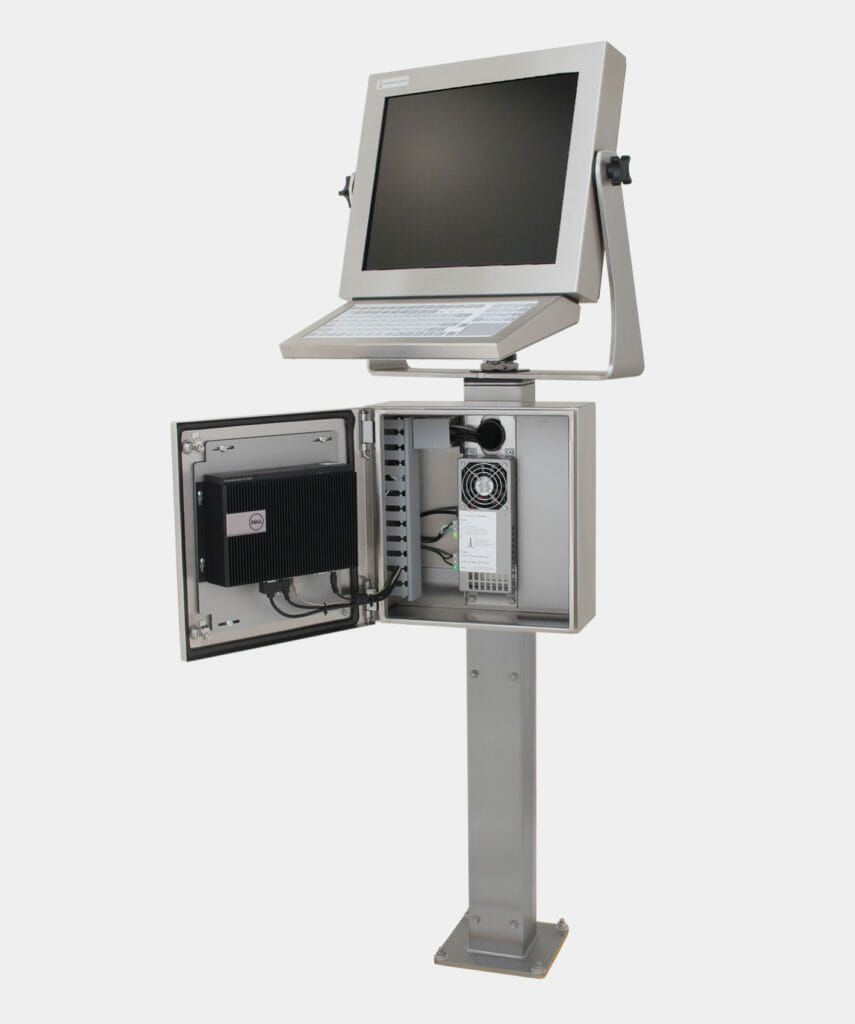 Hope Industrial Systems is pleased to introduce our new line of Thin Client Ready Industrial Operator Stations. These self-contained workstations are available with 15″, 17″, or 19″ LCD monitors housed in NEMA-rated black powder-coated or stainless steel enclosures and provide a sealed, clean and cool operating environment for a user-supplied thin client or small form factor PC. Optional features include NEMA-rated touch screens, industrial keyboards and pointing devices, and tilt/swivel yoke mounts.
A complete workstation is priced starting at $2,465 ($3,170 for stainless steel) offering the industrial user a low-cost platform that can be used with most 3rd party thin clients or small form factor PCs.
"Our customers use a wide variety of thin clients in industrial environments. Rather than forcing the user to pick from a small selection of devices, our industrial workstation provides a standard enclosure that will work with most of the thin clients on the market. This enclosure takes care of power, cooling, and environmental protection," said Jeff Waddle, VP of Engineering for Hope Industrial. "The customer can select from a variety of displays, keyboards, and other accessories, turning any industrial or commercially available thin client into a fully ruggedized industrial workstation."
The use of a well-placed internal cooling fan allows maximum heat management inside the thin client enclosure. Depending on their design, many commercial thin clients will actually run cooler inside the protective enclosure than they would in a typical office environment. This was accomplished without any ventilation outside the enclosure, maintaining a NEMA 4X / IP66 rating for wash-down environments.
Workstation Specifications and Options
LCD Display Options – 15″, 17″, or 19″ (22″ widescreen available soon)
Protective Display Windows – resistive touch screen, tempered glass or acrylic window
Construction – stainless steel or black powder-coated steel
Mounts – Full tilt/swivel yoke mount or fixed mount
Keyboards

Full-travel keyboard with button pointer
Short-travel membrane keyboard with touchpad

Integrated Thin Client / PC Enclosure

14″ x 14″ x 6.125″ outside dimensions
Mounting bracket to accommodate most popular commercial and industrial thin clients
Internal circulating fan
Industrial DC power supply for thin client (5 VDC, 12 VDC, up to 40W)
Internal cable management

Certifications

NEMA 4/4X/12 ratings for all components
UL50E (Type 4/12 for black powder-coated steel models, Type 4X for stainless models)
UL508
RoHS, WEEE
For more details, please visit the new enclosure's web page and read a full technical description on the enclosure's FAQs tab.