Hope Industrial Systems touch screens are designed and 3rd-party certified to withstand the toughest, dirtiest industrial environments. At the same time, our resistive touch screens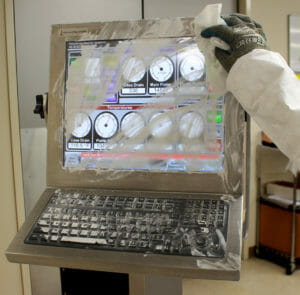 are pressure sensitive so a user can easily interact with the computer, even while wearing heavy gloves. This can be a problem: a screen that is designed to get dirty will need to be periodically cleaned, and wiping down a powered-on touch screen can cause accidental touches in your click-sensitive software.
The Hope Industrial Screen Cleaning Utility is the perfect solution.
The Screen Cleaning Utility prevents clicks from attached pointing devices, including touch screens, allowing you to clean all surfaces without disrupting any other applications. This application is compatible with Windows XP and all subsequent versions.
Download the app now (it is also available on our Downloads page).
To use the Screen Cleaning Utility, simply run "scrnclean.exe"; no installation or set up is necessary. All pointing devices, including your touch screen, will be disabled and a splash screen will appear with a 20 second countdown in the upper left corner of your display. At the end of the countdown, all pointing devices will be re-enabled.
The 20 second default run time can be changed with the command line option: "-t <number>". For example, "scrnclean.exe -t 30" will run the program with a 30 second run time. To add a command line to the .exe file, follow these steps:
Create a shortcut to the .exe.
Right click the shortcut and select "Properties".
Add "-t <number>" to the file name in target field.
Click ok to save changes.
Pin the shortcut to your task bar/ start menu.
Please contact Hope Industrial Systems for more information.